Get What You Want This Holiday Season
Just in time for the holidays!
Does your body want to climb into bed and sleep for days when you think about the fast approaching holiday season?
Do you sense an overwhelming amount of social responsibilities heading your way?
Do you feel a huge amount of pressure to keep up with expectations?
This year, it's time to take care of the one who takes care of
everyone else – YOU!
Ask yourself this question, "What do I really, really want from this holiday season?"
Now, do you think it's possible to get it? I say yes!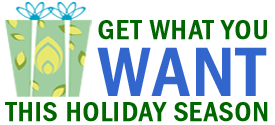 This is the perfect class for you if you're looking for:
More peace at the family gatherings
A chance to take a break and start 2012 rested and renewed
A deeper connection to love and joy this holiday season
I believe the holiday season is about connecting with what you love. This may be with family, activities, social events or quiet time with a book in front of the fire. It's whatever feels good to you.
What you'll learn in this class:
Get clear on what YOU want this year and ask for it from a place of clarity and love.
Set healthy boundaries on what doesn't feel good.
Listen when your body tells you it's time to take a break versus it's time to play.
Date: Wednesday Dec. 7th
Time: 4pm – 5pm PST
Where: On the phone
Cost: $29
To sign up for this lively call, click the button below.
Read what others say about previous teleclasses.
I truly loved Diane Hunter's Listen Beyond Words telecourse. Diane has a remarkable way of presenting information from an authentic place of peace and love, while helping others learn how they can access such peace within themselves. Diane's unique experiences as the mother of an Autistic child add such depth to her coaching techniques. I am very lucky to have met Diane, and I am very gracious for all I have learned from her as a coach, a person, and as a mother.

Joanne S. Nelson, Life and Wellness Coach and former school psychologist

The Listen Beyond Words telecourse gave me tools and resources to help me right where I needed it, in the present moment! Diane clearly and openly shared her knowledge with us. Diane had great focus and also is also very gifted at going with the flow, addressing participants specific questions and needs as they were expressed. I loved the opportunity I had to role play a stressful conversation with her and see an entirely new outcome emerge! I truly feel that I have been coached by Diane in very productive ways.

Mardi Wooster, Special Education Teacher, Mother of 3 boys
With love,


Mind-Body and Leadership Coach
diane@afterautism.com
408-395-2277