Parenting Workshop
Listen Beyond Words
A transformative parenting workshop with horses
As a parent, would you like to understand what your child says with his or her behavior and learn to communicate more effectively?  Let horses be your teachers!
Watch this video to hear Koelle and Diane demystify why horses are such powerful teachers.
Do you face these parenting challenges?

I don't understand my child's behavior.

My child doesn't listen to me.

My child's whining and tantrums make me crazy.

I lose my patience far too often.

I get overwhelmed

I don't have enough energy to meet everyone's needs.
This workshop teaches a new approach… With HORSES? YES!!
From the moment your child enters the world he starts to communicate.  For the first year, children communicate almost exclusively in a non-verbal way.  It begins with a cry.  By the time he reaches his first birthday, you know the sound and meaning of each different cry as though it were a language.
As your child develops language, the focus shifts to words.  However, your child continues to communicate non-verbally with every behavior, sound, glance, and posture.
Researchers have discovered that the majority of our communication is non-verbal.  We are constantly sending, receiving and reacting to non-verbal messages and children, like horses, are masters at reading these messages.  Working with horses provides immediate feedback and great experience so you can demystify the patterns of non-verbal communication that are standing between you and your child.
We have created a program unlike any other parenting workshop.  Join Koelle Simpson, life coach and horse whisperer and Diane Hunter, life coach and parent of a non-verbal special needs child with autism, for a transformative three day experience with horses that will show you how to tune-in and listen beyond words.
In this three-day workshop with the horses, you will:
Discover a level of non-verbal communication that will build trust and deepen your connection with your child.

Interpret your child's behavior.

Maintain a sense of play in your relationship with your child.

Learn to set healthy, compassionate, clear boundaries.

Open up to releasing your attachment to the outcome.

Learn to stay in your own business

Receive direct coaching on the specific challenges you and your child may be facing when it comes to communication.
All exercises with the horses will take place on the ground.  There will be NO riding during the workshop.  No prior experience with horses is necessary.
What others say about working with Diane, Koelle and the horses.
"My son Adam doesn't use words much, and when he does he's almost impossible to understand…unless you've worked with horses the way Koelle and Diane do.  Just a day with these wonderful animals taught me so much about how to communicate without words that I can have long 'conversations' with Adam and his non-verbal friends.  It's truly magical work."

Dr. Martha Beck – Best selling author and life coach
"Working with the Koelle and the horses has been a breakthrough for me, both personally and as a parent.  I have learned how to center myself in my own experience, and greatly improved the trust and communication with both my kids.  My daughter has Down syndrome and is nonverbal.  I can connect with her energetically now, and really understand her in a way that I wasn't able to when I felt frustrated by her lack of verbal ability.  I have also improved my relationship with my son  (who is typical) by being present and open to him while setting clear and compassionate boundaries.  Diane is amazing.  She has totally integrated this work, and applied it to her whole life, most especially with Ian.  She is a wise and compassionate guide for anyone working to connect to themselves and their children in a deeper, more authentic, more compassionate way." Peggy, mother of a child with Down's Syndrome and life coach
Logistics
The workshop will be held at an intimate setting in the Santa Cruz mountains just 10 minutes from the quaint town of Los Gatos or 20 minutes from the ocean side town of Santa Cruz at The Los Gatos Farms.
Dates:  Thursday June 24th – Saturday June 26th
Times:  9:30am – 4:30pm each day
Location: Los Gatos Farms
Accommodations
There are several hotels in Los Gatos in varying price ranges.  Los Gatos Farms is just off of Highway 17 on the way to Santa Cruz so if you're interested in staying near the ocean, there are many hotel options there as well.   Listed below are four choices in the town of Los Gatos.
Los Gatos Hotel 5 minute walk from downtown and restaurants.
Standard King $239, Standard Double $259
The Toll House Right in the heart of downtown.
Standard rate $209  AAA $188
Los Gatos Lodge
Standard rate $99.  They also have kitchenettes for $149.
Los Gatos Motor Inn Across the street from Los Gatos Lodge.
Standard rate $89
Whole Foods is a 5 minute drive from all four hotels and the San Jose airport is about 20 minutes from Los Gatos, right off the freeway.  Los Gatos has some fabulous restaurants ranging from low to very high end.  Please visit the town's website for more information: www.town.los-gatos.ca.us
Questions
For more information or any questions, please contact Diane.
Phone:  408-395-2277
Email:   diane@afterautism.com.
Workshop Fee
Early Bird Price:  $1750 (Available until May 31st)
Regular Price:     $1950
Bonuses:
One private 60-minute coaching session with Diane to be scheduled within 90 days of the workshop date
Follow-up group call with Diane and Koelle for workshop participants to connect and share the changes in your life.
The workshop will accommodate a maximum of 12 participants
*** Please note that payment and refund policy will be handled through Koelle Simpson LLC.  ***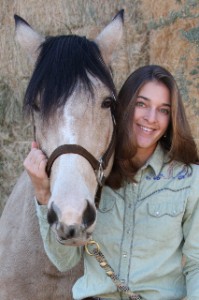 About Koelle Simpson
Life coach and horse whisperer, Koelle Simpson, offers a new perspective on communication and trust development. She is honored to have received extraordinary educational experiences as a direct student of legendary horse whisperer, Monty Roberts, and apprentice of best selling author and Oprah columnist Martha Beck, along with many other two legged and four legged teachers alike. Her mission in life is to help others to reconnect with the amazing lessons of nature. Koelle seeks to create a bridge of communication between one's true nature and one's social persona in order to rebuild genuine trust in themselves as well as in their relationships with others. As a result, individuals are able to unleash the powerful, calm, yet irresistible leader that has been patiently waiting just under their surface.