Equus Collective
The Equus Collective presents experiences to shift your team into a conscious state of flow – continuous, creative response to the thrills, obstacles, and uncertainties of the present moment.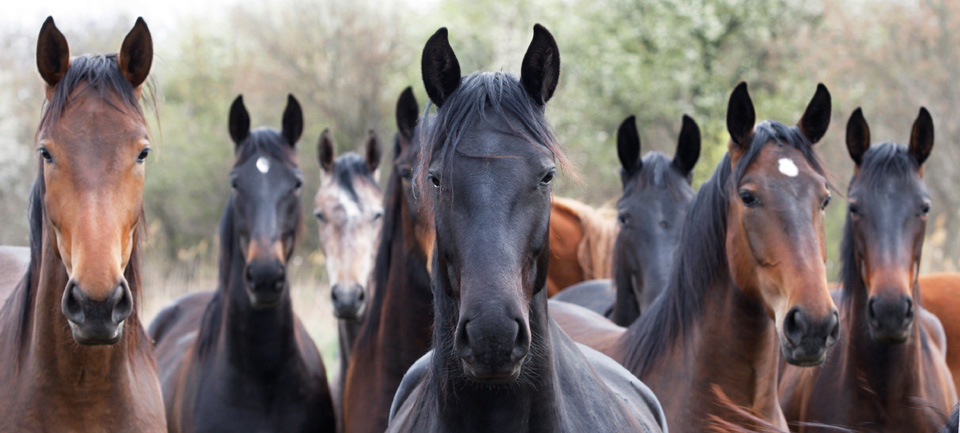 Aligning with Vision
We are here to support teams who aspire to bring innovation, creativity, and positive impact to our world. Your ability to deliver on vision requires an empowered group of individuals who have uninhibited access to their personal talents and inspired action, who are able to work and play together as a collective.
Custom Crafted Experiences
The Equus Collective creates custom experiences to help your team bring vision, purpose and meaning to the world. Our intention is to help you actualize your potential.
An engagement begins with a needs assessment, where we meet with you to understand your business vision and challenges. We want to know what obstructs your path, both internally and externally. Beyond team dynamics, our work takes your strategic tensions into consideration. Together, we design an experience to accelerate your team's agility by focusing on three key pillars: Awareness, Integration, and Deep Practice.
Equus Retreat: Time With Horses
At the core of our work is the Equus Retreat: one to three day experiences for your team to learn from four-legged masters. Our equus coaches guid and support the team through deep and profound shifts. Equus coaching is for teams who are prepared to take on personal transformation work. This is a platform for radical change through experiential learning.
We create awareness of both obstacles and potential within the individuals team members and their interactions with one another. Horses help us spotlight the unconscious, whether it is something holding you back, or an area of untapped ability.
Coaching Integration
In addition to the equus retreat, we offer the following services to support your team's ability to execute on your vision and goals.
Private Coaching: To anchor in new awareness and understanding, we offer private coaching both over the phone and in person. This may include video review of the individual's equus experience as well as strategies and practices to support the integration process.
Team Coaching: We help you develop and practice new communication dynamics and patterns through meeting facilitation and mediation training.
Envisioning: Strategy Sessions
There are two natural outcomes when a team experiences equus coaching: Alignment and Flow. Individuals come into alignment with their internal wisdom and true leadership abilities. And the team, as a collective, has access to flow: a higher level of collaboration, fluidity, and inspiration.

We help you capitalize on this awareness through our Envisioning sessions, where your team engages in strategic planning to focus on vision, brand, and the future of your company, products and services. Our experienced innovation and brand strategists are also equus coaches and consultants who know the language of equus. They are unique sherpas to guide you to the future vision of your business.
To schedule a one hour demo or to explore an equus experience, call 408-395-2277 or email equus@dianehunter.net
The Practice
Experiential Learning
The easiest way to make shifts is to experience change in action. It's often not enough of your mind to know something. We teach you to drop out of your busy mind and into the wisdom of your body, where instinct, heart, and clarity exist.
Why Horses?
Horses exhibit clear leadership, communication, and herd instincts. Horse herds develop a natural flow of leadership which evolves based on each horse's abilities. When you step into a round pen with a horse, it is the individual that is the most aware, present, instinctual and authentic that earns the horse's trust and respect. With horses, there is only room for honey, objective feedback.
Approaching business and life through the lens of nature may seem unconventional, until you remember you are nature.
Honest, Objective Feedback

The most challenging aspect of equus coaching is one that will also dissolve barriers of misunderstanding and judgment within your team, creating space for trust and empathy: people receive 100% honest and clear feedback from the horse. The high sensitivity of a horse to its herd and environment means that it also has the profound ability to pick up on how we do things, and what we deeply believe – beliefs and actions that often are within our blind spots. There is no more posturing or hiding. Without language or stories, horses provide us with pure objectivity.
Accelerate Change

Within the Equus Collective, we believe that creating significant change within an organization requires a willingness to face everything that shows up, from a place of objectivity, honesty, and kindness. As you and your team see yourselves mirrored by the horses, you will learn to experiment with new ways of being and engaging. The immediate feedback from the horses provides a deep imprint in your mind's ability to learn new behaviors for positive change. Nature is a wise and powerful teacher to help us experience our own innate strengths and abilities.
Speaking Events and Corporate Demonstrations
University of Phoenix
American College of Family Trial Lawyers
Stanford University
Dell
Sherwin Williams
Santa Clara University
Bank of America
Apogee Investment Group
American Medical Tennis Association
Mont Blanc Middle East
Tibotech
Intersections, Inc.
Emirate National Oil Company
Deutsch Company
National Autism Association, NYC
The Rivoli Group
Oil-Dri Corporation
UniMed Direct
Shaw Communications
Scottsdale Insurance Company
Bridgestone-Firestone
Partner 4 Prosperity
CA Girl Scouts
Welmark
Northern Trust Bank
Equus Collective Founders
Koelle Simpson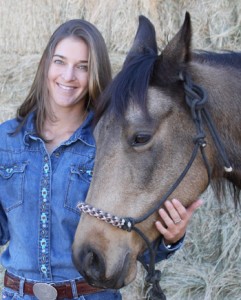 Koelle Simpson is a horse whisperer and life coach. Most recently featured on the OWN Network series "Finding Sarah," Koelle's message has made profound impact on leaders, corporations, and change agents around the world from South Africa, Europe, UAE, Canada and the United States.
Koelle has had rare opportunities to apprentice with exceptional teachers, including bestselling author and horse trainer, Monty Roberts, and the international acclaimed life coach, bestselling author and columnist at O Magazine, Dr. Martha Beck. Yet, the most life changing teachers of all came from those with four legs instead of two. Her mission in life is to return the gift by helping others rebuild trust in themselves and unleash the powerful leader within each of us.
Lisa Tran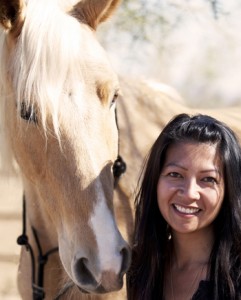 Lisa Coaches and advises entrepreneurs and business leaders who want a more vital experience in both work and life. For leadership teams, Lisa creates equus experiences to shift organizations into collaboration and conscious flow states.
Her professional training includes master equus coach training with horse whisperer and coach, Koelle Simpson and coach certification with Dr. Martha Beck. She holds a bachelors from Dartmouth College and a masters degree from Parsons School of Design, The New School. Lisa has also spent the last 15 years in innovation planning and branding, working with leadership teams of tech startups and Fortune 500 companies. Her greatest teachings have come from learning from her master equine teachers, surviving a war, and living on a desert island for 8 months. For the past few years, she has enjoyed being a curator and speaker coach for TEDx San Diego.
Diane Hunter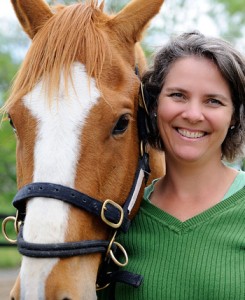 Diane helps individuals reconnect with their inner guidance system and dissolve any fears blocking them from stepping into their full power. Her clients learn the keys to effective leadership and communication including trust development, healthy boundaries, clarity, and the awareness to tune into a much broader range of communication, beyond words. She's had the unique opportunity for deep practice as a parent of a non-verbal child with autism.
Her professional background includes a degree in computer science from Cal Poly (BSc), Master Equus Coach training with horse whisperer and coach, Koelle Simpson, Life Coach certified with Dr. Martha Beck, and endorsed Mind-Body Coach through Anamsong. Diane is a guest lecturer for Stanford and Santa Clara Universities. When she's not out playing with horses, you can find her driving a Lotus Elise fast around the race track.
Retreat Locations
North Star Ranch, Arroyo Grande, CA (30 minutes from San Luis Obispo, 3 hours from Los Angeles, 3.5 hours from San Francisco) North Star Ranch is on a beautiful 150-acre private equestrian property. Unique "barn" meeting space and spacious outdoor areas for gatherings, your team is deep in nature and equestrian country with access to modern facilities and catering.

Creek Hollow Ranch, Ramona, CA (one hour east of San Diego, 2.5 hours from Los Angeles) Creek Hollow Ranch is on an expansive 350 acres of pastures and hills, with covered arenas and outdoor areas for gatherings.

Webb Ranch, Portola Valley, CA (centrally located between San Francisco and San Jose) Operated by the Webb family since 1922, Webb Ranch is conveniently located for providing an equus experience for your San Francisco and San Jose-based teams.
We also hold retreats throughout the U.S. and internationally at a variety of equestrian facilities and retreat centers.
We Invite You Into the Round Pen
To schedule a one hour demo or to explore an equus experience, call 408-395-2277 or email equus@dianehunter.net