Speaking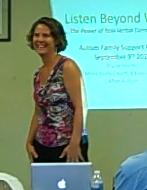 Diane is a dynamic speaker who is passionate about sharing her knowledge and experience.  She loves to ignite a group with ideas, exercises, theory, and stories and then witness the understanding and awareness switch on.
She combines what she's learned raising a nonverbal child with autism with her training as a mind-body and equus coach to offer a range of topics.  Diane's unique background enables her to connect with a wide range of audiences.
Prior to raising a family with two boys, she held several sales and marketing positions in the high tech industry where she created and delivered presentations for teams of engineers, managers and executives.  She earned a degree in Computer Science and she lived and worked overseas in Sydney, Australia for four years before starting a family.
Core Speaking Topics:
The Power of Nonverbal Communication
The Integration of You
Listen Beyond Words:  Tune into Your Body, Heart and Energy
Stop Handing Over Your Authority:  Become the Leader of Your Life
Let Go of the Need to Control:  The Hot Track to Freedom
Feeling Stuck?  Blast Through the Stop Signs and Open Up to Infinite Possibilities
Key Strategies for Leading Your Team:  Create an Environment Built on Trust
Create Peace while Parenting:  The Paradox is Possible
Speaking Engagements Include:
Intersections, Inc. Chantilly, VA
AMTA Medical Meeting, Rancho Mirage, CA
Stanford University, Palo Alto, CA – Guest Speaker
Santa Clara University, Santa Clara, CA – Guest Lecturer
Skyline College, San Bruno CA – Guest Lecturer
Parents Helping Parents
Autism Family Support Group
Bay Area Autism Professional Circle
Bay Area ADD/ADHD and Autism Conference, San Jose, CA
"Mothers in the Tri-Valley" Fundraising Event, Livermore, CA
Bay Area Autism and AD/HD Conference, San Francisco, CA
Marin Autism Lecture Series, Marin, CA
San Mateo Autism Lecture Series, San Mateo, CA
National Autism Association NYC Chapter, New York, NY
"I was moved by Diane Hunter's presentation "Beyond Words." Her calm, clear and inspiring words to parents and professionals allow us all to embrace the challenges of either having a child with Autism or teaching a child with Autism in an accepting and honoring manner. Diane's experience implementing the work in her own life with her son, that she uses in her coaching practice, establishes her credibility and gives hope to us all. I encourage parents to reach out to Diane for guidance. I urge schools and parent support groups to consider bringing Diane in to offer workshops and training."
Karen Kaplan, Executive Director
Wings Learning Center & Private ASD Consultant
Want Diane to Speak For Your Group or Event?
For more information, please contact Diane.
Email: diane@dianehunter.net
Phone: 408-395-2277