See With the Souls of Your Feet: Tracking Retreat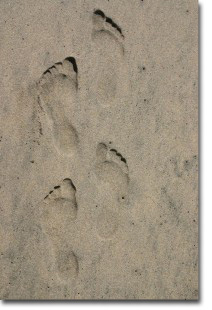 Ready to implement everything you've learned?  Tracking animals in nature is packed full of rich symbolism and metaphor for how you track your life.  I'm collaborating with some amazing souls to co-facilitate the tracking and trailing retreat.
When:  August 23 – 26
Where: Los Padres National Forest
Accommodations:  Ojai Valley, Southern
What we have planned for you:
Gathering the first day to form as a group in Ojai at a location where we will all stay together.
Two full days of tracking and trailing in the Los Padres National Forest.  We may add an additional half day.  Tracks we may trail: bear, mountain lion, deer, coyote.  We will rent a vehicle and drive the group each morning, early, into the forest and return in the afternoon for a rest and gather for dinner and facilitation with the retreat leaders.
Explore how tracking animals and tracking your creative life journey overlap and inform each other.  Where science and art come together, using left and right brain together.
It will likely be quite warm at the end of August and you will learn about your own adaptability and what happens when you are in uncomfortable situations.
Practice stilling and quieting the mind.
Learning flexibility and not moving linearly.
Expansion of your senses, learning and observing how everything is interconnected; animals, plants, water, geology just like mind, body, heart, soul.
Deeper understanding of energy conservation.  Animals are consious and intentional with the way they move and you will gain a deeper understanding of energy conservation.  A coyote trais is strait and aerodynamic; they are on a tight energy budget.  In all of nature, you will find very little waste.
Find out how you respond when you don't know?  Do you shut down, get defensive, get curious, get playful?
Tracking and trailing in the Los Padres National Forest involves the whole body and may be rigorous at times.
Logistic and more details to come.
Please email Diane to be added to the interest list and you will receive a notice when details are finalized.
Meet my co-facilitators!
Alex van den Heever
Co-founder & General Manager of Tracker Academy
Alex spent his formative years growing up on a cattle farm in the Western Cape, South Africa. After completing his studies in Marketing and Business Management, he joined world-renowned Londolozi game reserve in 1995 as a game ranger. During his 13 years at Londolozi, Alex led habitat restoration projects, presented for the marketing team and conducted specialised safaris.
However, Alex's greatest fascination during his time in the bush was tracking. To this end, he dedicated much of his time to learning the ancient art of tracking, eventually qualifying as one of five Senior Tracker Evaluators in 2004. During the course of the last two decades, Alex's dedication to tracking has afforded him the opportunity to track many of the world's big cats, as well as grizzly bears in Yellowstone National Park.
Renias Mhlongo
Senior Tracker and Trainer at Londolozi Game Reserve
On 16 March 1963, Renias Mhlongo was born in an area which is today part of the greater Kruger National Park. The Mhlongo family sustained themselves on the land by growing vegetables, tending cattle, hunting and gathering. Renias, almost as soon as he could walk, was sent out to tend the family's cattle. He is one of the last people to be raised in the original traditions of a Shangaan pastoralist and naturalist.
Without any formal education he was forced to seek work at a private game reserve as a labourer. In 1984 he became a tracker at Londolozi, thereby putting to use his exceptional skills as a naturalist. Renias has since qualified as one of 16 Senior Trackers in South Africa – the most challenging formal tracker qualification in the world today. His intuition while tracking is uncanny and he played a major role in the habituation of the world-famous leopards of Londolozi.
Renias has conducted tracker training workshops in South Africa, Kenya, Brazil and America, teaching people the traditional skills of trailing animals. Renias has travelled internationally, and in so doing has touched many with the gracious manner in which he teaches people about the African landscape, its culture and indigenous knowledge. In 2010 Renias became the principle trainer at Londolozi game reserve campus of the Tracker Academy.
Meghan Walla Murphy
Wildlife ecologist, Tracker and Writer
Meghan is a local to the area we'll be tracking.  Not only a local to California but a highly trained tracker and environmental conservationist with an emphasis on wildlife corridors and linkages.  As a child and teenager she was fortunate to travel to Mexico, France, Kenya, Tanzania, and around the United States. These travels further shaped Meghan's understanding of respect and helped her to understand the vast potential for life on this planet.  She earned two degrees from US Santa Cruz in biology and Asian history.
Further travel included Nepal, Philippines, Japan and upon returning to the US, at the age of 23, Meghan became co-director of a 501c3 outdoor education company- W.O.L.F., the Wilderness Outdoor Leadership Foundation- a position she held and cultivated for the following six years. In addition to learning business and management skills, during this time she studied with herbalists, trackers, storytellers, and elders. Differing from her experience in college, Meghan was mentored by people who interacted with nature rather than researched it.
Later in her career, Meghan twice lived in South Africa for months at a time as both teacher and student. Between international travel, she also worked with Dr. James Halfpenny in Yellowstone and co-authored the book, Track Plates for Mammals.
This is a very unique opportunity to learn the skill of tracking and following and see how trackingI've invited two trackers from South Africa lead a tracking experience to give a unique opport